Steel belt double layer flaker for resin chemicals.
2020-04-09
---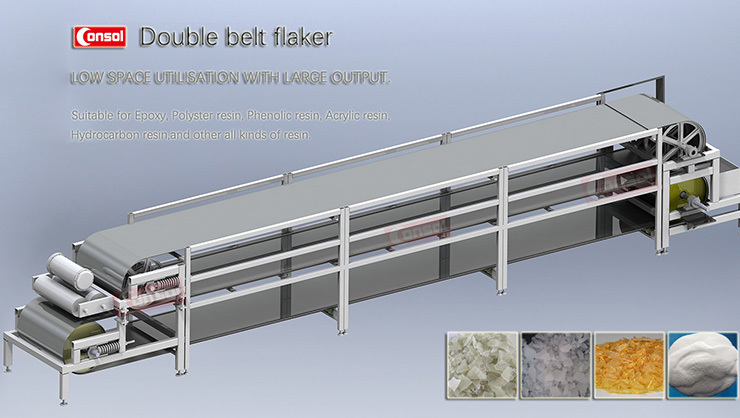 Steel belt double layer flaker for resin chemicals.
For certain applications, the double belt cooling system offers significant advantages over a single belt cooler,particularly in terms of increased capacity, as the product is in contact with two cooling belts.The efficiency of this operation is further enhanced by the system's relatively compact dimensions, enabling more to be produced from less floor space.Products such as waxes and resins, which tend to curl away from a single belt, can be processed with complete confidence.It is possible to cool thicker products with a uniform discharge temperature over the whole cross section.
The double belt system also helps to eliminate vapors and fumes between the belts and keep them from the operating area.The product is fed onto the upper surface of the lower belt which carries it to the central cooling zone,where the pressure of the upper belt ensures constant contact with both cooling surfaces.Loading and discharge methods are arranged to suit individual products and can incorporate breaker equipment at the discharge station if required.