Double belt press
Composite continuous press reference of man-made board press technology
Contact now
Product Details
---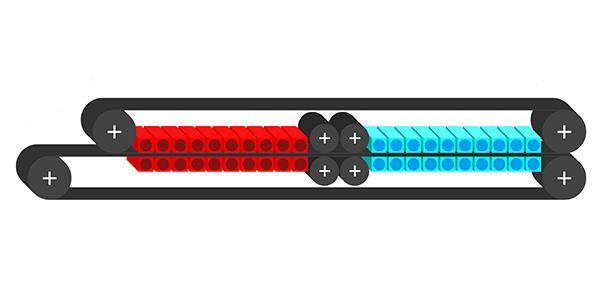 Main principles
Composite continuous double belt press reference of man-made board press technology, the main principle is to realize the steel belt under continuous operation state to pressure on the stack together film base material and the quantity of heat, and then cooling molding. Obtain new material with uniform thickness and stable quality. The thickness of the plate depends on the space between the upper and lower belts.The side seal is mainly used to determine the width of the plate.
The product is cut with required specifications by longitudinal and transverse cutters after a controlled process of polymerization, solidification and cooling.
Features
The product made by double belt press will be flat, smooth and accurate.
Temperature resistance up to 450°C.
Automatic continuous production, reduce energy consumption.
Excellent corrosion resistance and abrasion resistance to meet all requirements.
Structure
Consol designed and manufactured the stationary roller continuous double belt presser, which consists of hub, pressure roller, heating plate, lifting mechanism, hydraulic system, bearing and steel belt.
Processing
Raw materials - film laying device - table - access to front tile press (center temperature 180°C) - access to 300°C- heating area of material melting - access to thickness area - access to cooling area - access to sawing - cutting edges - scrap collection - diagonal cutting and final products.
Product usage
A variety of multilevel laminated materials
Artificial stone
Various sandwich composites
Fiber reinforced composites
Natural fiber composites
Metal composite
Brin composites
Aluminum plastic fireproof material
Other high, medium and low pressure composite materials
Consol double belt press can process continuous pressure heating and cooling processes for the production of fiberglass, carbon fiber composites, interwoven compressed fiberglass, carbon fiber pads, fabrics or thermoplastic materials.